Silver Auto Sales History
In the Beginning…
It all started in the mid 1950s with Bruce Boender (Steve's Dad). He worked as a dealer distributor for "AMC" American Motor Cars for close to 30 years (1950's through the late 1970's). This was the company who originally made the JEEP! And arguably the first (and best) All wheel drive station wagon (sorry Subaru)!
Steve Boender started working on cars at age 12 and purchased his first vehicle at age 15. He bought a 1964 Chevelle and rebuilt it with his brother Doug. Steve worked at the family gas station for a few years and worked a few jobs at the local Cadillac store. In 1968 (at age 15) he started working with Wayne Wiarda whom would be his partner for many years. Wayne would buy the vehicles and Steve would repair them. This worked well for many years. After Steve graduated high school he would work with Wayne full time. They had a two-car shop and he would work on a few cars at a time but always wanted to be able to work on more and grow the company. Now that his family had grown to 3 boys and a very understanding wife! In 1985 Wayne and Steve went into business together 50/50 and built a larger building for more growth. 1 year later Steve had the opportunity to buy Wayne out as it wasn't the right fit for Wayne at the time. Although they didn't work together as partners any longer, they have always remained close and still talk regularly! Officially, Silver was incorporated in 1988 but Steve has run the shop since 1985! The first 14 years in South Holland then a short stint in Lansing IL while building in Frankfort.
1969 Racing AMX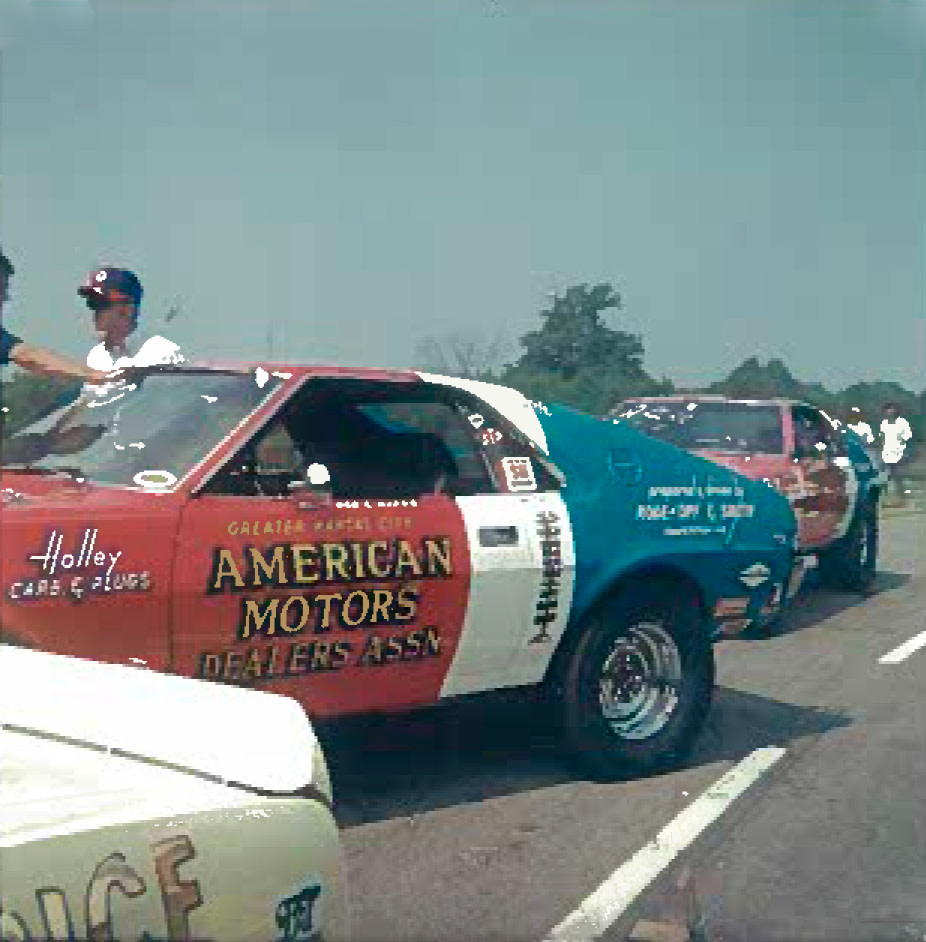 Along with Steve's dad, Bruce Boender and his AMC connection, they attended a race in Indianapolis (see the name of American Motors Dealer Association). How cool those cars would be now!! Think of all of the cool car companies that they have shut down over the years for crazy reasons… Hummer? Pontiac?......
1970 Damaged 1966 Chevelle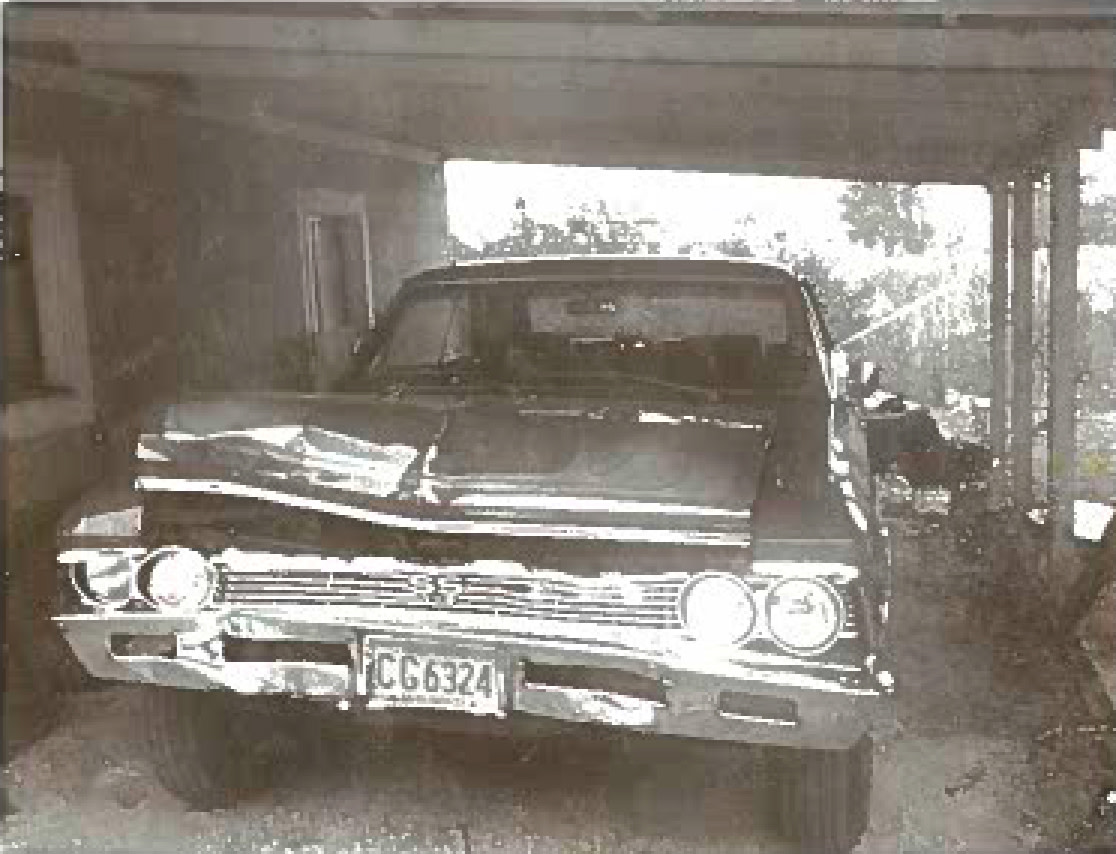 Wrecked front end on 1966 Chevelle under car port in the family home. Steve started working on cars with his older brother Doug. They would repaint and repair many types of vehicles but muscle cars primarily. Most work was done back then outside or in the family garage. Much more complex and sophisticated now!
1972 First Shop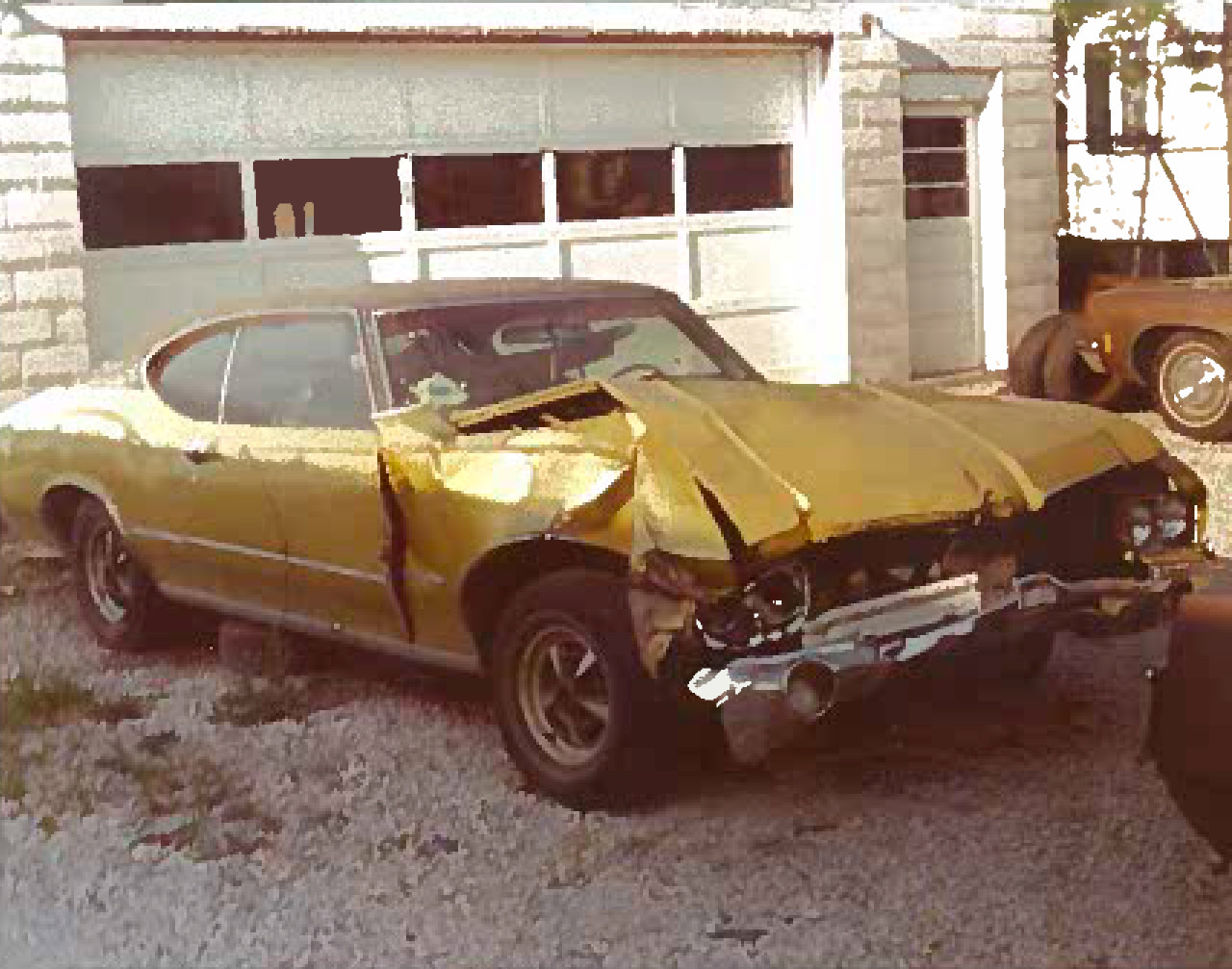 This was the first building he moved into around 1971. It was a smaller a 30x30 shop with no partitions and would perform all of the work in the small space. Painting and mechanical all in this shop. Dusty, dirty and LOUD! Look at that cars color!
1977 Steve Boender President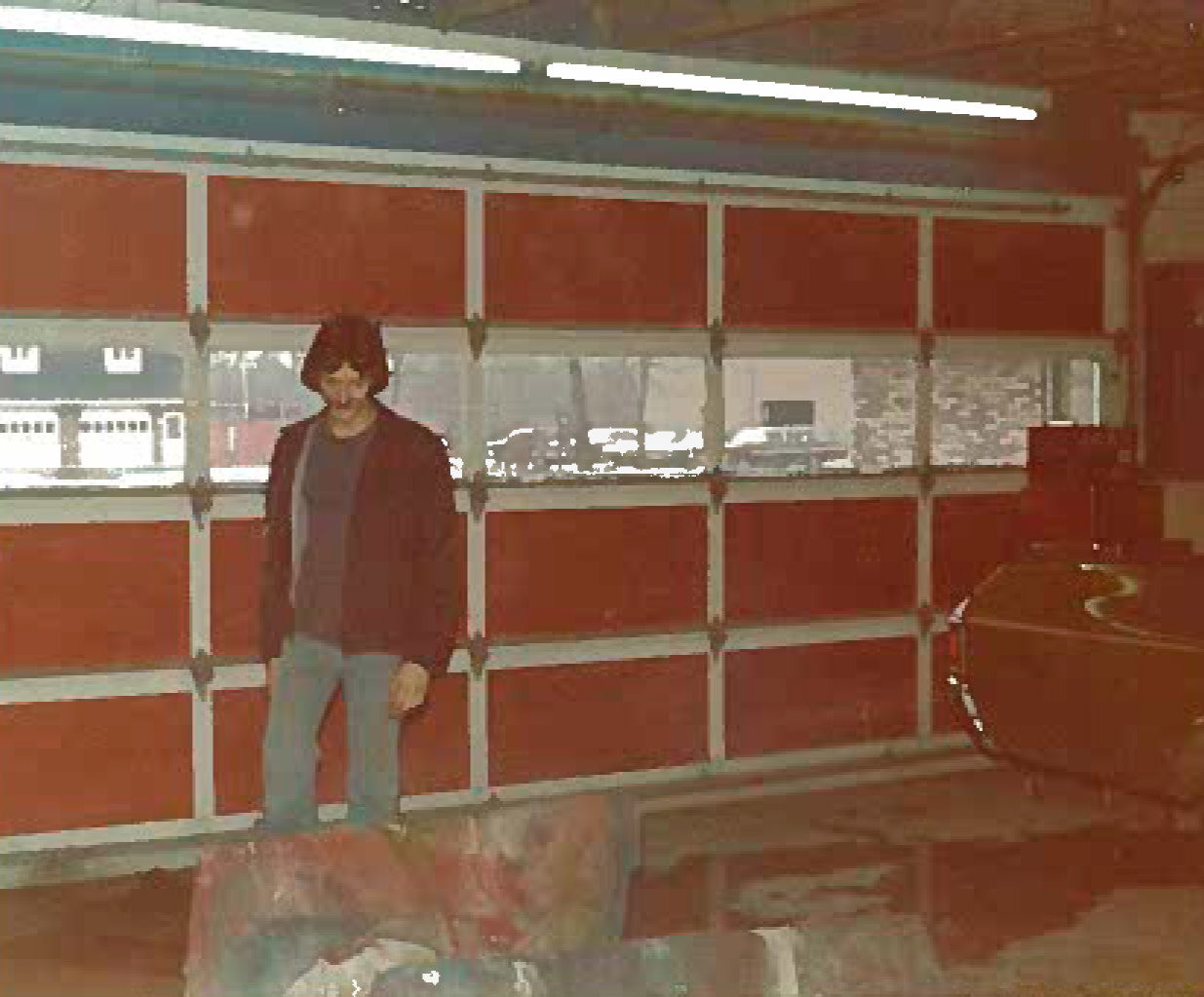 Worked here alone for over 15 years. Many people visited but no full time employees until years later. Check out that hair! Very dark in the building but still produced a great product!
1979 Pontiac and more cars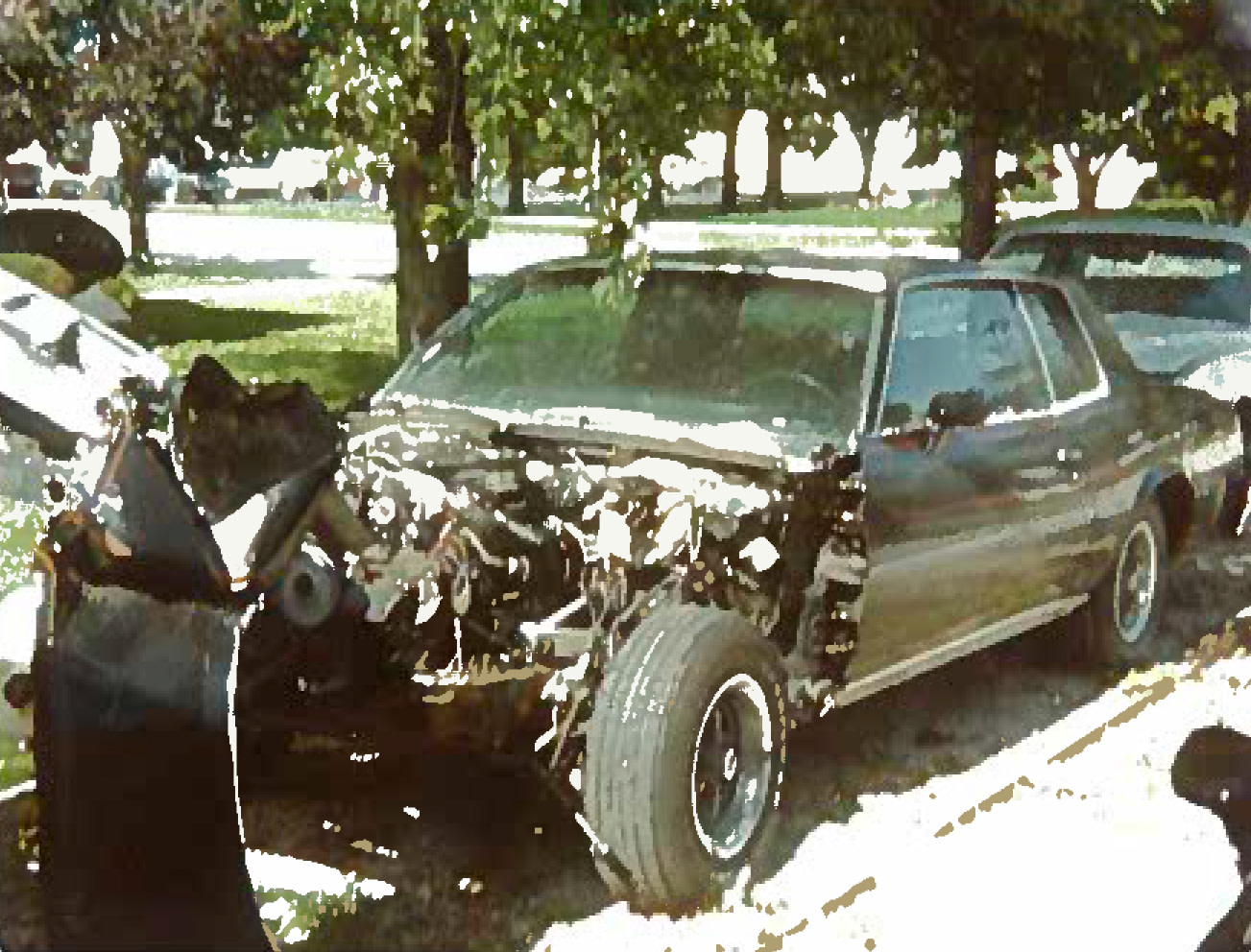 A few more cars in the background. Starting to grow and use more part time assistance if and when needed.
1985 Arrival and Construction of Building
Building getting delivered and assembled in 1985. Official start for Silver with Wayne. Did you know the name Silver Auto came from the name of the color of the building ??? FOR REAL!!
Very exciting for Silver as we can work on more cars and employ more people!
Post 1985
Silver Auto always worked to have the less common more fun cars. We are all car people and love the business and the great people that we get to see and interact with.
Around this time in 1985 we focused less on the damaged cars and more on volume and lighter reconditioning. We would now start to hit all of the local new car dealers and buy their trade in inventory. This was back when there were no book values or internet sites for what a car was worth. So, when it came to a customer trading a car in it was very tough to figure out what a car was worth. Lots of guessing for the dealers and that's why they chose Silver Auto! We would help the new car stores make their new car deals.
1985 Tow Truck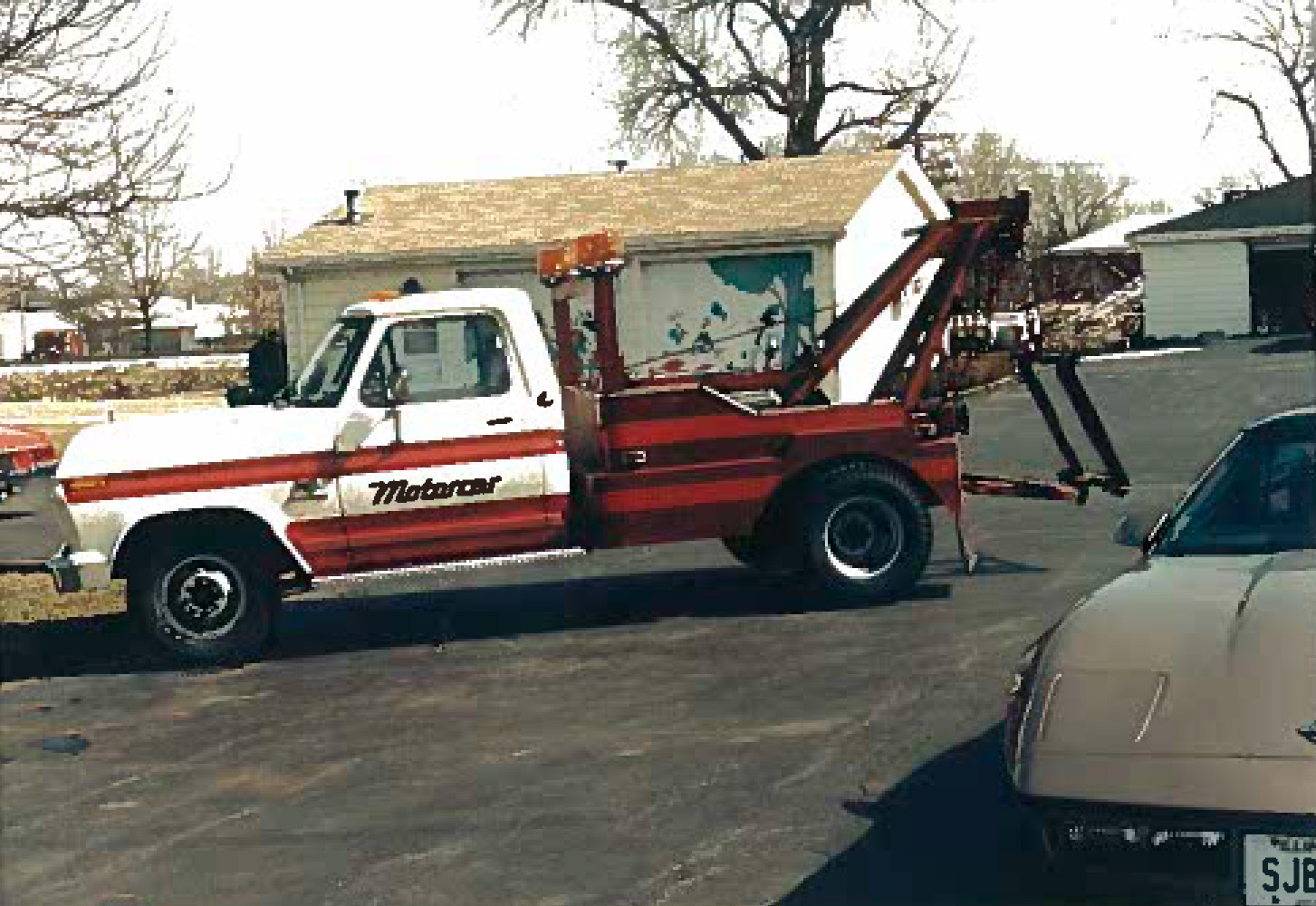 Awesome time for Silver! Lots of growth. Purchased the first transport / tow truck to handle all of the new volume and growth.
Two fun things in this pic; SJB on the car license plate of (his initials) and the garage in the background has Disney Characters painted by the local High School! How cool!
1986 Lot of Camaros!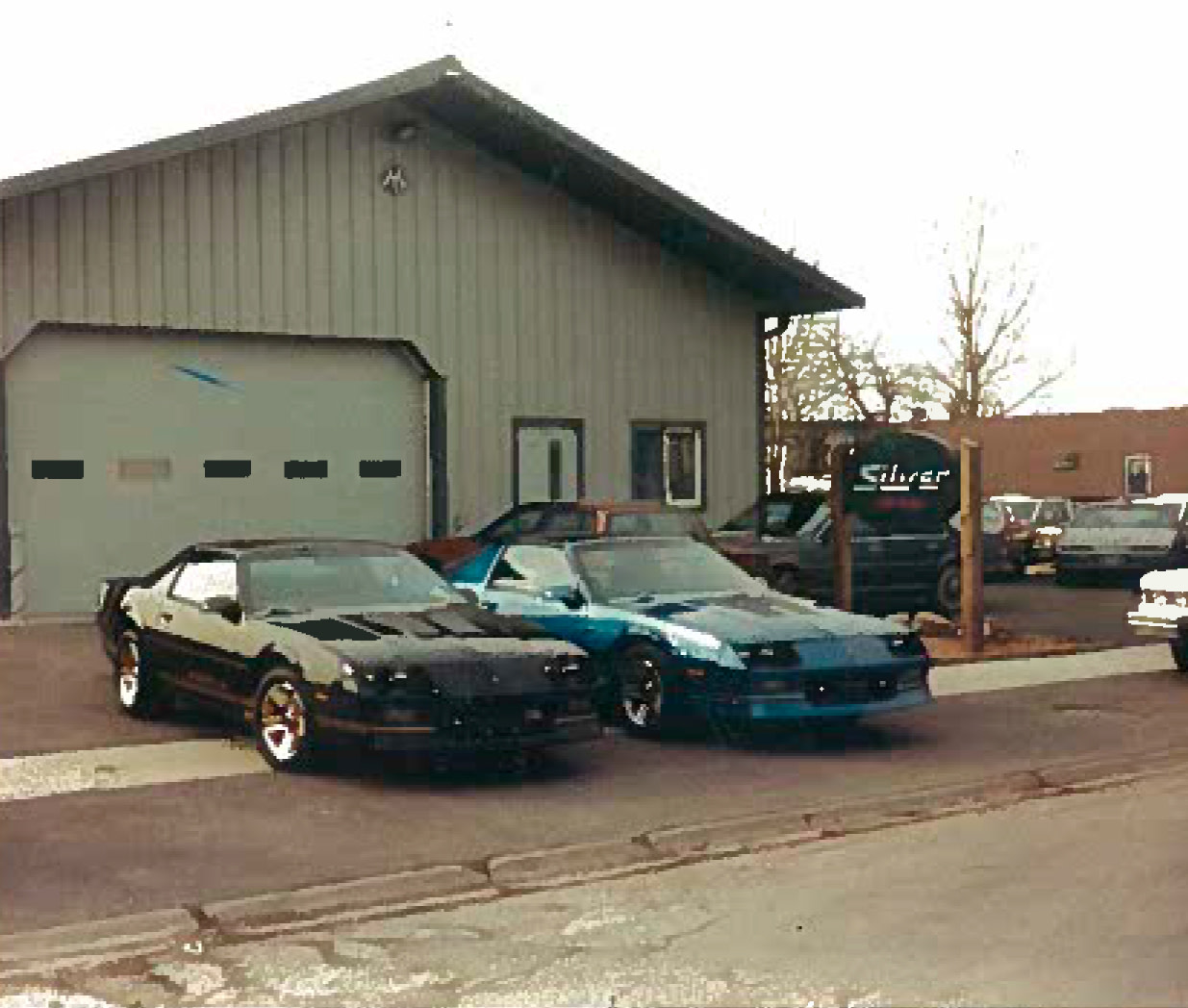 Building complete and now ready to do much more volume that Steve was looking for. We could work on 13 cars at once vs 2 in the old days.
2 Iroc's. You just don't see these anymore!! With T-Tops!!
1986 Current VP Joe Boender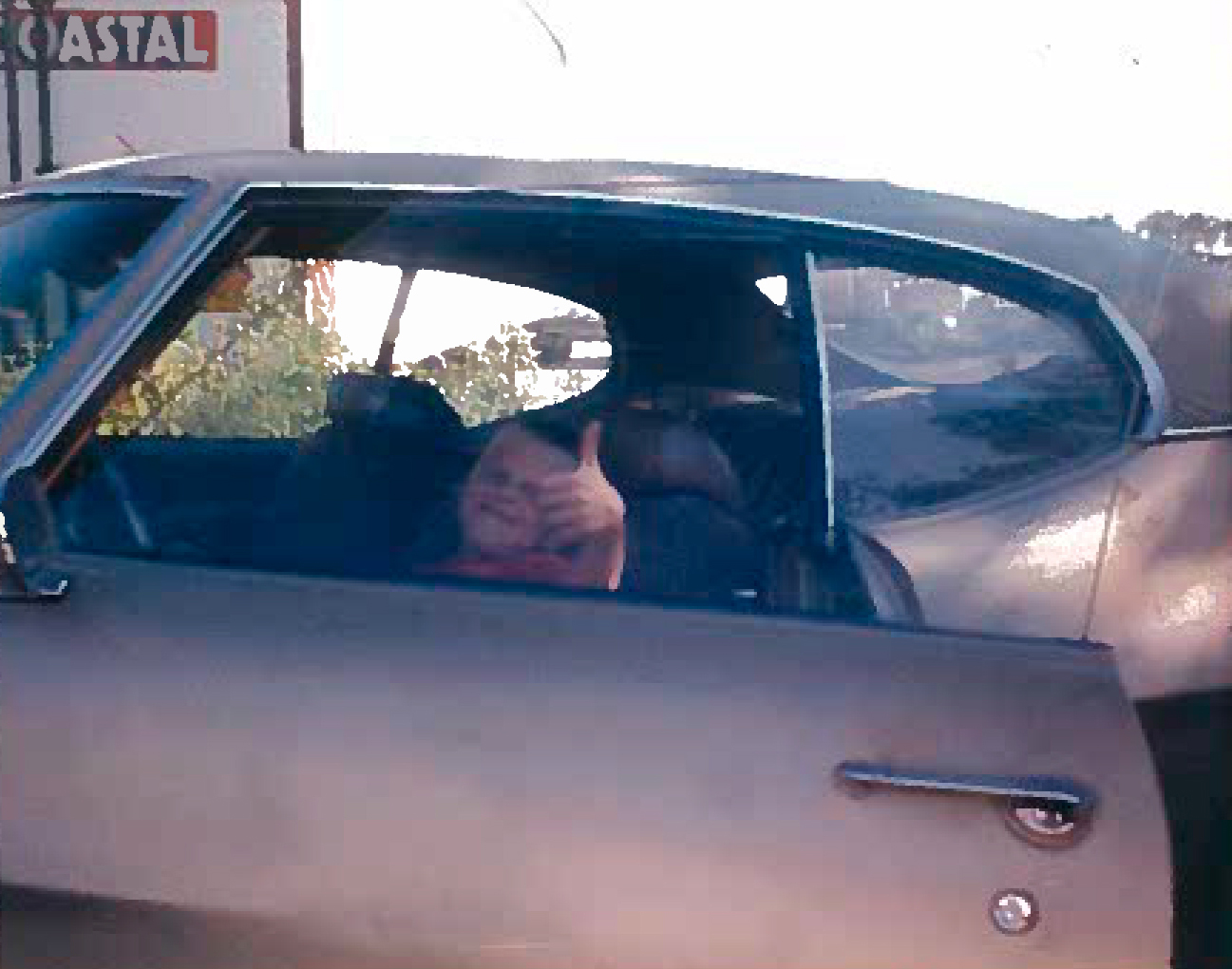 Looking super energized for the future. (typical used car salesperson with a big smile and thumbs up!)
1987 Unique Cars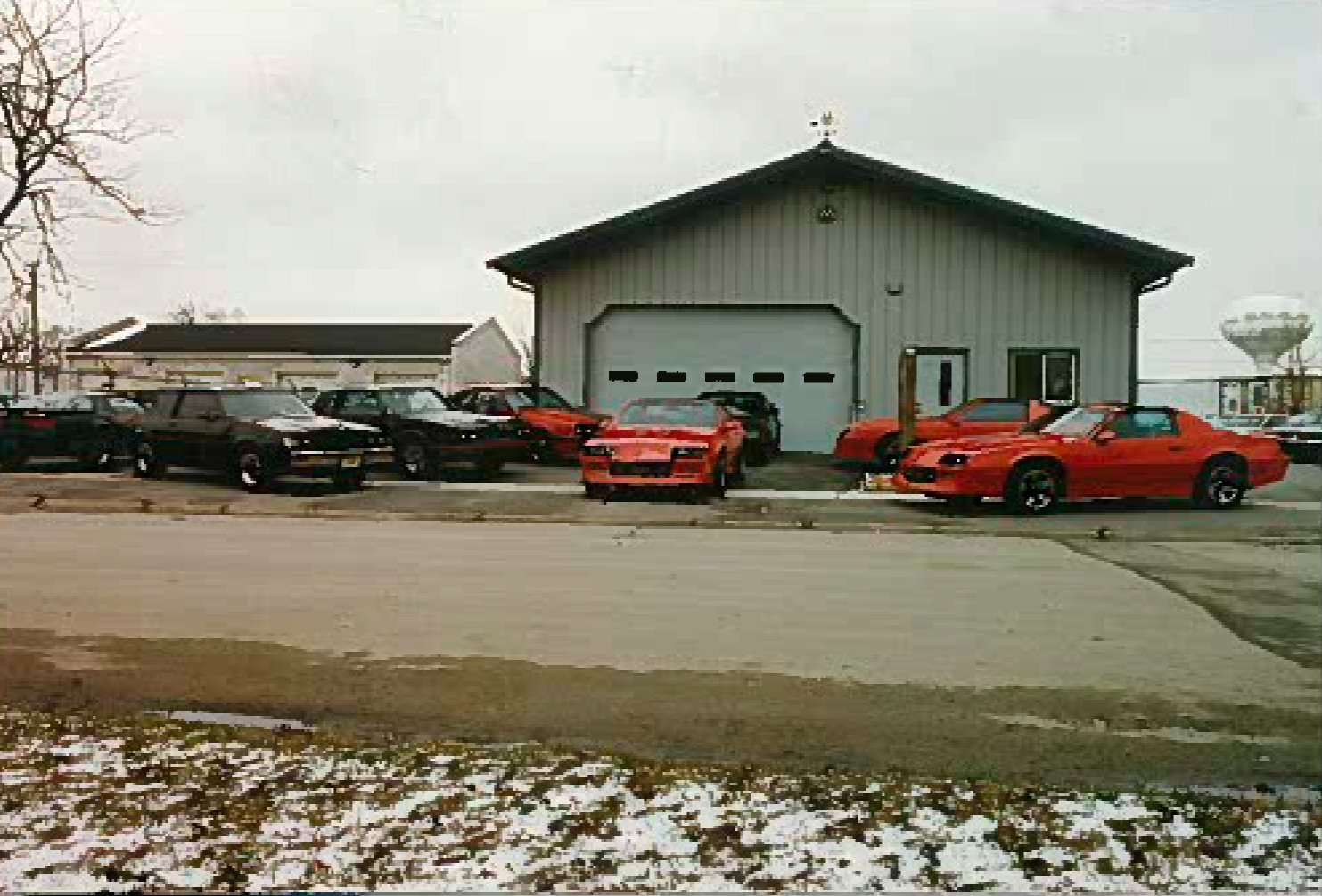 Can't get enough of the Camaros, right?
Is that an Aero Coupe Monte Carlo?
If you look close at the water tower in the background you can see the praying hands of the small blue law town.
1990 Dealership Picture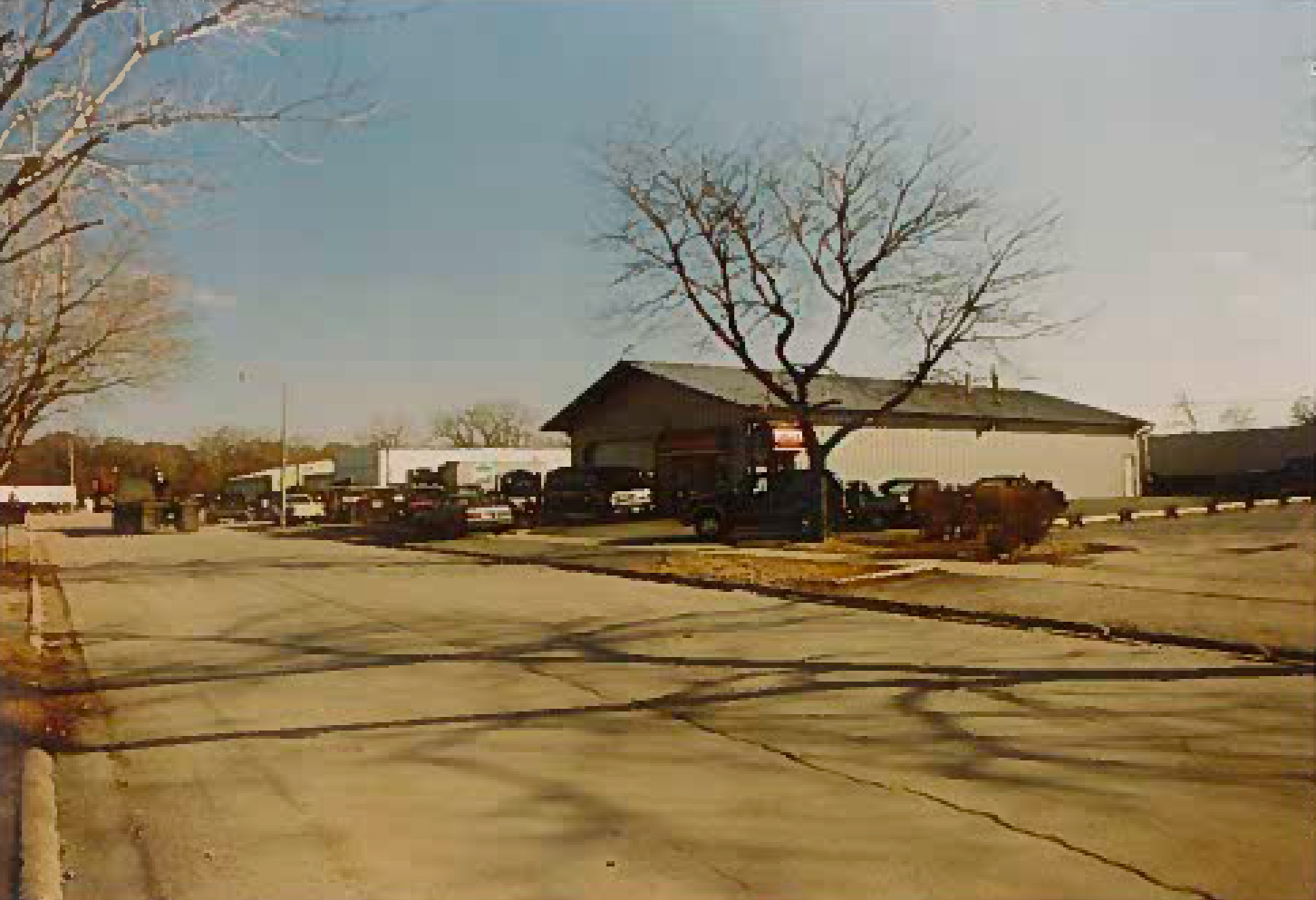 Storage trailers in the back; previous industrial park. Why do we always choose Industrial parks? For the ability to offer wholesale prices to the public!
1991 Rare Buick White T-Type
Look at the PEPSI machine in the back! Only 30 cents!
1991 Car trailer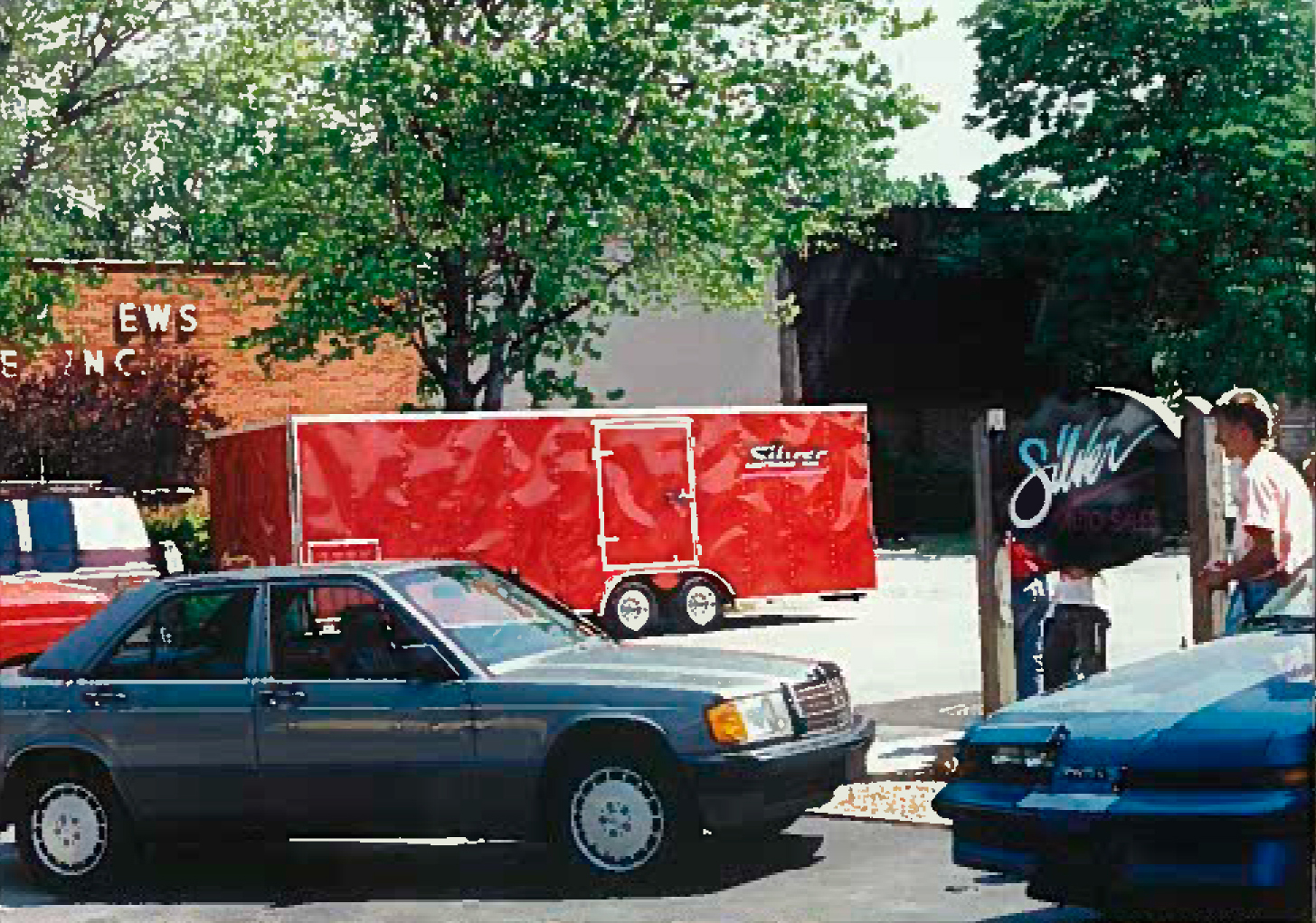 One car trailer for racing and some customer pickups and deliveries.
1991 Silver Crew (like the Ice Crew at BlackHawks Games)!!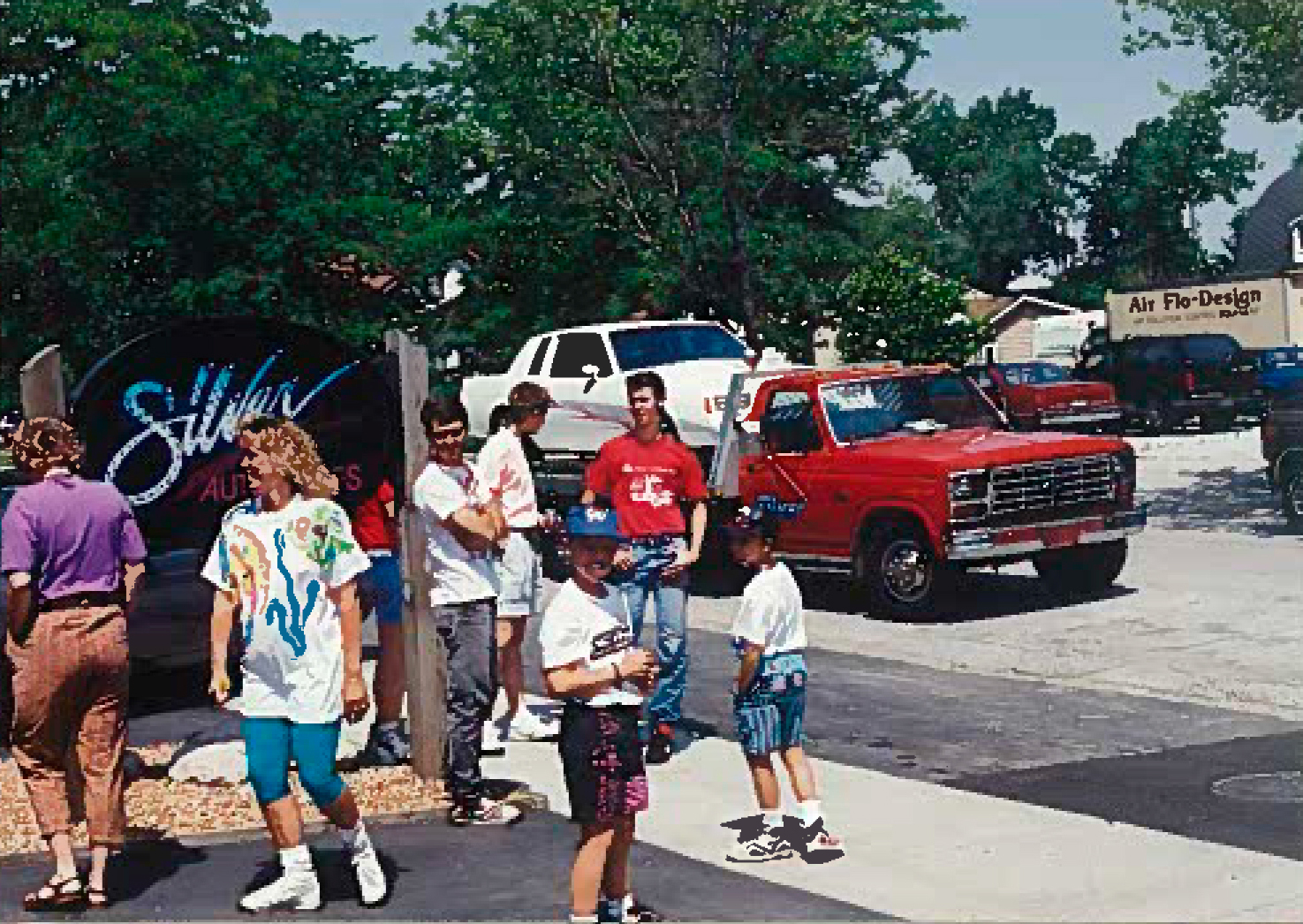 Current crew of 12
Look at the colors! Miami vice?
Many of the employees seen here are still active customers!
The Rest is History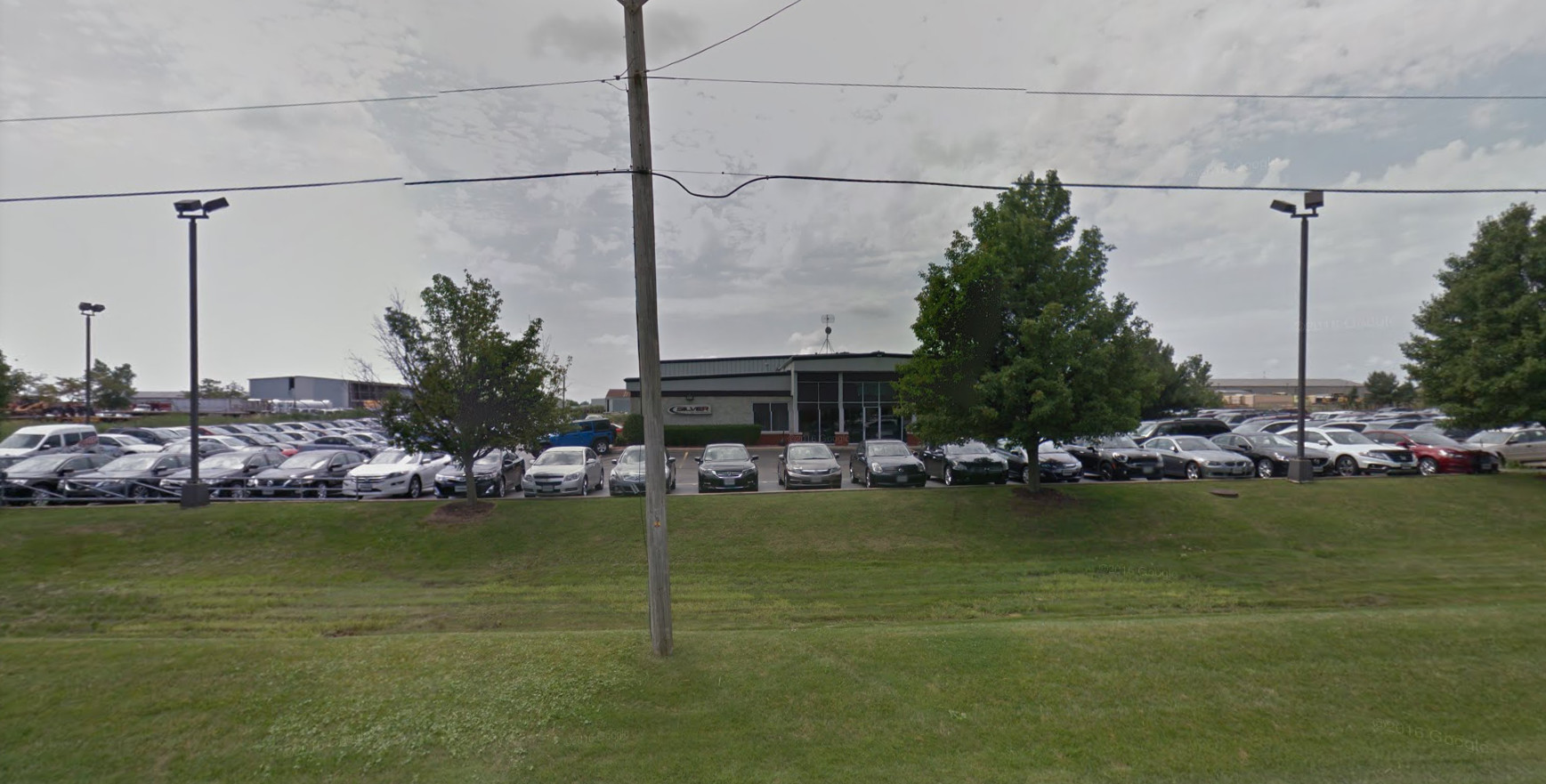 Moved to Frankfort in 2001 in the current location on 5 acres. Mostly wholesale (repairs and sales) back then until about 2005-2006 when we started to in cooperate retail sales along with the existing wholesale business. We aimed to do more retail sales in the new location and with the internet coming to age it really helped us early on. We now stock close to 300 vehicles at any time ranging from 30 years old to days old and everything in between. Continuing to sell lots of vehicles to our increasing customer base and many customers nationwide. Most of us on the team here are passionate about both cars and people it has always been an enjoyable career. We are now moving ahead to include much more customer service and reconditioning business using the years of experience shop wide. Take a look at our "Meet Our Staff" page to learn about our staff and the many credentials that we have. Please keep us in mind as your vehicle needs come up in the future! Thanks for reading about our history!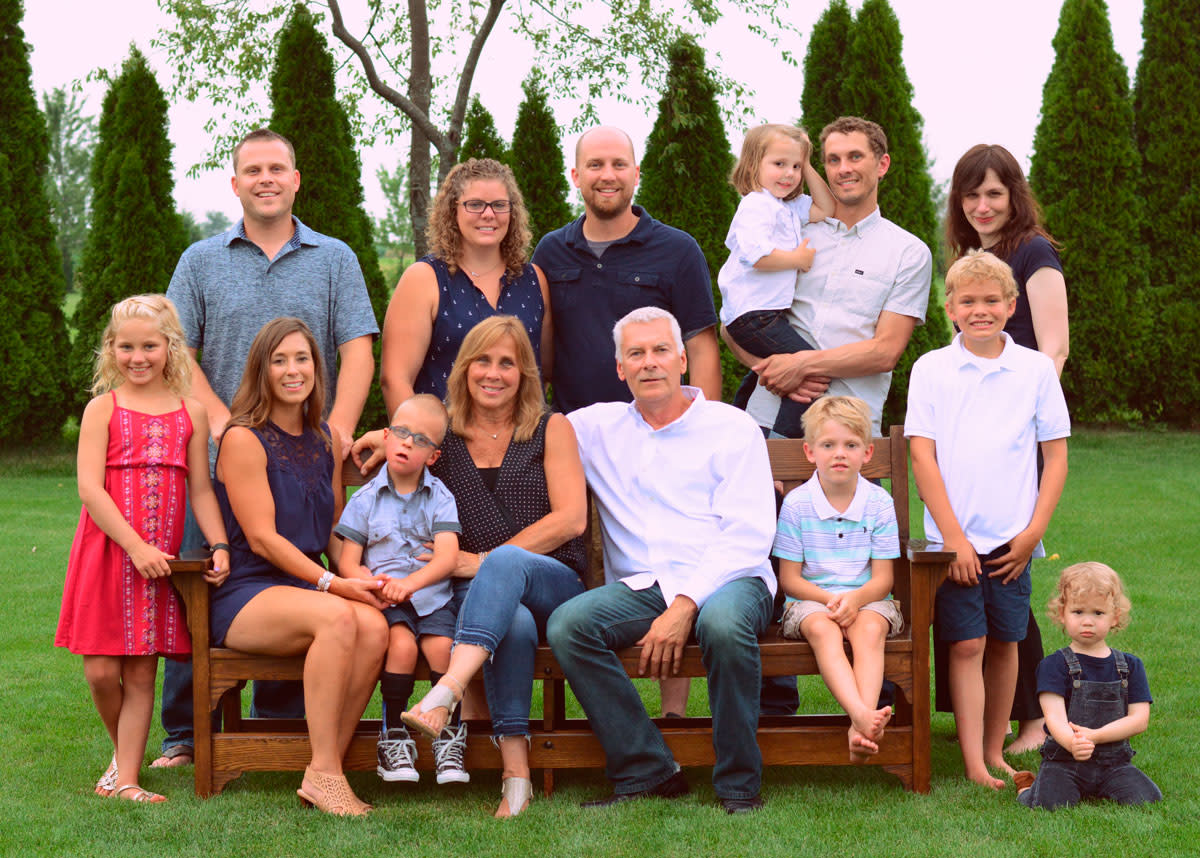 All three of Steve's sons have worked here. Steve, the oldest son worked a few years here and went back to school to pursue a law degree. David the youngest worked here for 10 years in the service and transportation departments. Joe, the middle son is still working here now as the Vice President. All four of them still have a strong passion for cars and even their kids! That's right the 4th generation is on their way!
Cool facts about Silver Auto Sales
? We have sold over 54,000 vehicles over this time!
? Our peak sales year was over $28,000,000!
? The most cars we sold in one year was just under 3,000!
? For a number of years in a row we were the #1 selling wholesale dealer in the Midwest with the largest auction group!
? All three of our locations have been in Industrial parks. We did this intentionally as this way we can keep the prices very low and the quality high!
? Many years of service and body shop experience with many certifications and equipment/tools to repair all makes and models!
? Each year we set a goal of 1000 vehicles to be retailed and we do our best to hit this goal!
The great team that we have assembled!